Save an extra 5% with this discount code: TsA2021W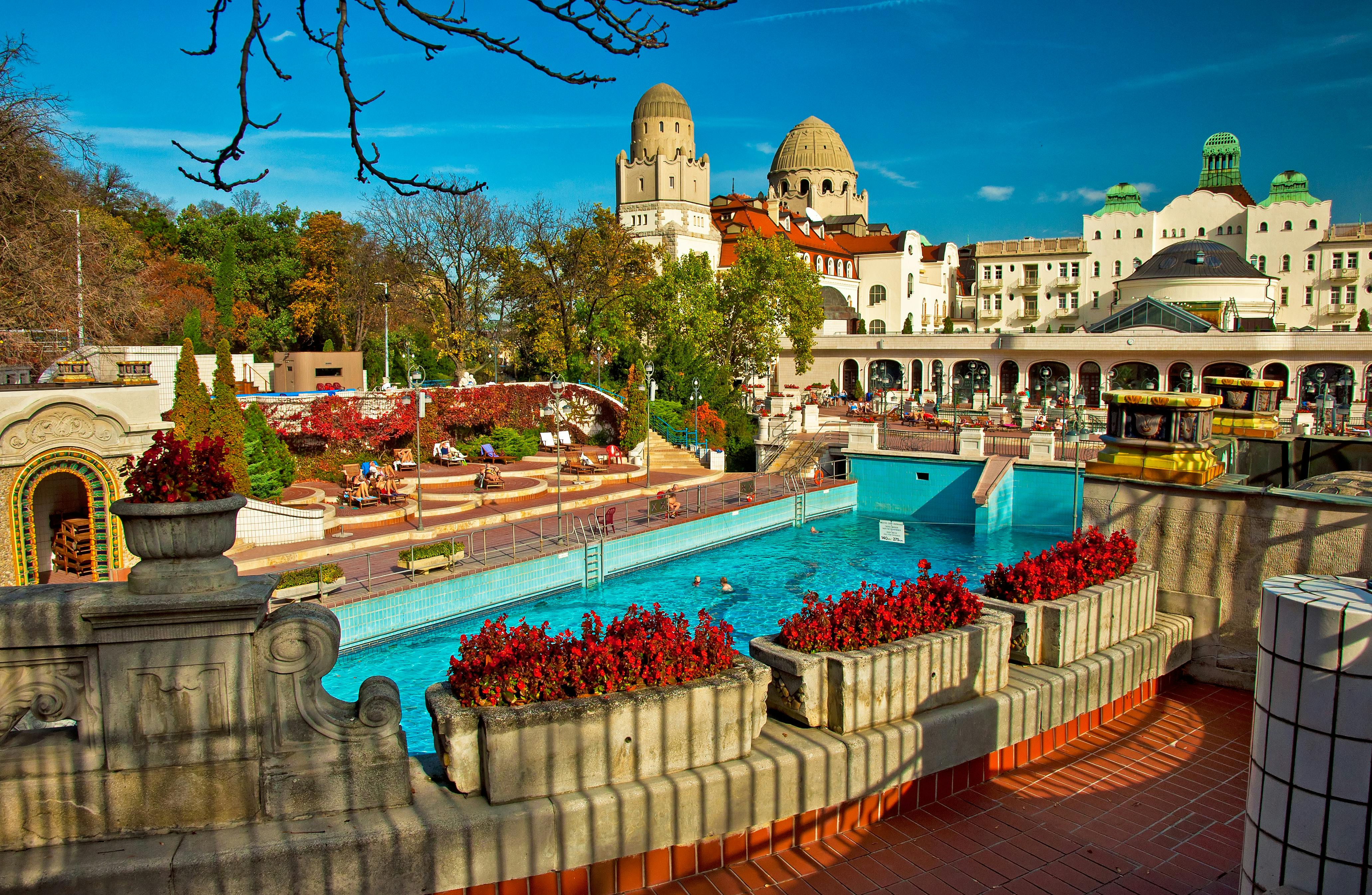 Hungary
Things to do in Gellért Baths
Enjoy a relaxing day in one of Budapest's most prestigious thermal spas on the Buda side of the city. Situated on the Danube river, Gellert Baths have offered year round entertainment and tranquility since the 12th century when records of the springs healing powers were first used by the Knights of St John and later on the Turks.
The current complex was opened in 1918 in conjuction with the Gellért Hotel . The Baths are famous for its elegant Art-Nouveau style featuring a main hall with gallery and glass roof, sparkling blue waters and open-air pool with artificial waves. Spend a day exploring the numerous pools decorated with numerous Art-Nouveau furnishings, artistic mosaics and sculptures.
Unwind in the Gellért Baths with priority access for the entire day to the warm spring water pools, thermal baths and treat yourself to a massage with many upgraded luxury treatment options.
Gellert Spa and Thermal Baths is located on the Buda side of Budapest, on the river Danube, at the foot of Gellert Hill and the Liberty Bridge (Szabadsag hid).
Address of Gellert Spa Baths:
Szent Gellért Gyógyfürdő és Uszoda
H-1118 Budapest, XI. kerület Kelenhegyi út 4
Additional Information:
Children aged (14 and up) are welcome to enter the Spa
Children aged (3-13) are not recommended to swim in the pools. Should the parents decide to visit Gellért Spa despite this, families should attend to their children at all times
Infants aged (0-2) who are not potty-trained are not allowed in the pools in Gellért Spa, even if they are wearing a swimming diaper
Babies and toddlers can come with the family to the Spa, but need to stay outside the pool area with an accompanying adult
All pools are accessible to both men and women
All guests should be in swimwear at all times as the Gellért Baths are coed
Slippers/ flip flops – they are required to be worn in the whole are of the Spa
Towels – Towels can be rented in Gellert Spa, but it is suggested to bring your own towel, as the deposit for the towels are set quite high, the waiting time can be long, and you need to keep an eye on your rented towel to get back the hefty deposit fee
Soap, shampoo – There are showers but no complimentary soap or shampoo dispensers
Swimming cap – you can also rent in the Spa
Food and drink – You can bring your own drink and food to the Spa, but we also have a buffet with cold snacks and drinks
Taking photos inside the baths is not allowed
Smoking is prohibited inside and outside of the Gellért Spa
Rental Prices (subject to change):
Pay in HUF and cash only
Towel: HUF1,000 (deposit HUF2,000)
Bathrobe: HUF2,500 (deposit HUF5,000)
Swimwear (women): HUF2,000 (deposit HUF2,000)
Swimwear (men): HUF2,000 (deposit HUF2,000)
Swimming cap: HUF1000 (no deposit)
Slipper: HUF800 (no deposit)
Our recommendations in Gellért Baths
Activities
Explore the hidden secrets of Budapest's Gellért Hill with this Discovery Game. Solve riddles that lead you through the city while learning about its history.
Duration
up to 2 hours 30 minutes
Experiences in Gellért Baths
How to get there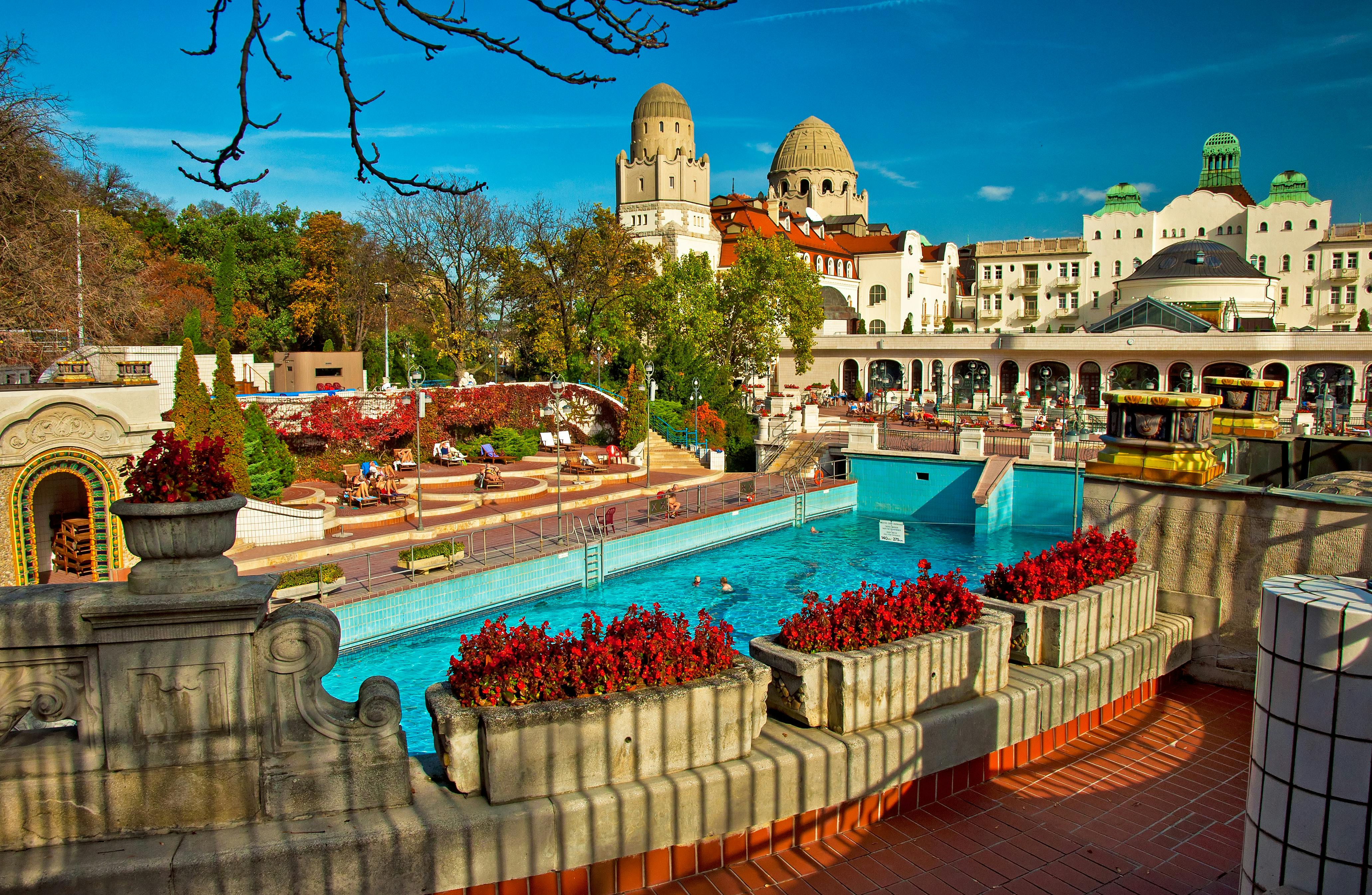 Reviews Gellért Baths
"Bon rapport-qualité prix!"
"We saved a ton and got to see so much stuff. Highly recommended!"
"ASSOLUTAMENTE IMMANCABILE PER VISITARE BUDAPEST. SUPER CONVENIENTE PER CHI AMA VISITARE OGNI LUOGO SENZA FARSI SCAPPARE NULLA. PRATICA E VELOCE."
"Noi abbiamo acquistato la Budapest card 48 h....ci siamo trovati benissimo ...comoda e pratica per l'utilizzo dei mezzi di trasporto che tra l'altro sono facilissimi da capire e puntuali. Il ritiro direttamente in aeroporto; inoltre ti fa risparmiare..siamo stati contentissimi...da fare!!!"